No, I have not collapsed from heat stroke but been brought down by my seed stitch shell in a knitting fervor.
This photo may appear disastrous but I assure you that I will be back to my happy knitting self as soon as the tank is finished. I am experiencing a very common affliction among knitters RFS (ready-to-finish-syndrome). My condition has been greatly exaggerated of late, largely due to the release of the Fall Interweave Knits and my discovery of the first pattern book in the Queensland Collection. I know that it is much too early to begin knitting for fall but unfortunately RFS does not respond to logic. Despite this I will share with you my favorite ideas from these sources:
The shape of this pullover is a little difficult to see in the photo, but it has a square neck that I adore. It reminds me of Julia Ormonds' (Guinevere's) costumes in
First Knight
, very middle ages. I would love to make it with different colored edging, perhaps gold with a teal border. Also I would eliminate the ties. Despite all my problems with it, I am so in love with the square neck that it is my first choice for Fall knitting.
Because of the glare this one's a little difficult to see but it reminds me of the cover of their Winter 2003 issue. That one was worn by the model in the first photo and it was blue. I've heard that that one had mistakes on the back once it was put together but this one doesn't have a seam up the front like the other one so I think it would have less problems. For this one I would use up some Noro Lily from our stash (Cotton and silk, very nice).
And from the Queensland Collection: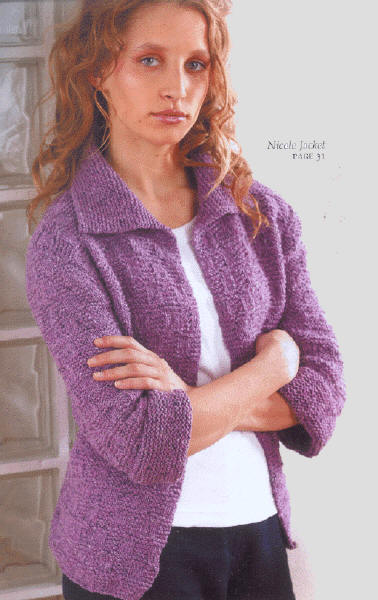 I don't know why the model looks so angry in such a lovely jacket. Queensland is the "new Jo Sharp" and so I thought that I could buy some Jo Sharp DK Tweed on sale rather than use the yarn that they call for here: Kathmandu (although it is also very reasonably priced).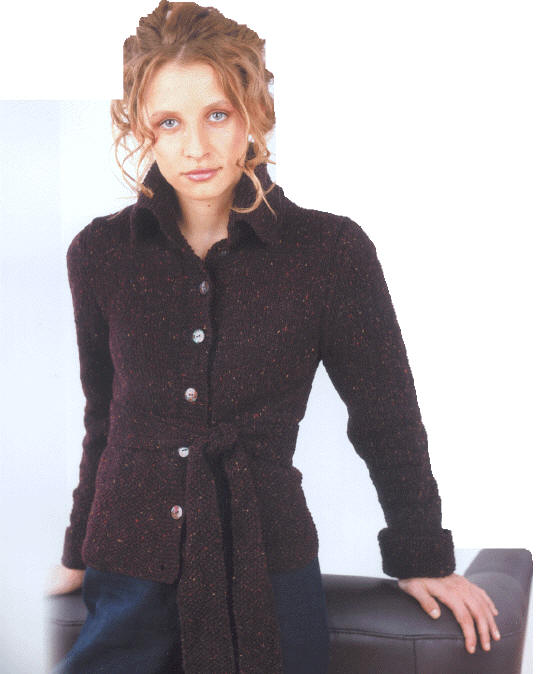 I love the buttons on this one, but I could do without the tie. A little plainer than the other one, but more jacket-y as well.
Tonight I am going to work on my shell while I watch TNT's Into the West (my guilty pleasure) and I am taking it to the Keith Urban concert tomorrow because we have lawn seats and I can knit while we wait for the concert to start. Too bad KIP is over! Hopefully I will finish before the weekend is over. Hope everyone else has a great weekend!